The Elysium Retreat Experience (Cabin Stay + Booklets)
The Elysium Retreat Experience is a two-day self-led personal development retreat located in East Sooke British Columbia. Participants stay at two beautiful waterfront cabins and work through two retreat booklets over the course of two days. These booklets help you review your last year and create an exciting plan for your next year and beyond. This retreat experience is designed for people that are looking to take a pause and check the pulse of their day-to-day life. It's also a great way to re-focus, create big goals, and spend time on life design!
[youtube v="5SQqa9Igojk"]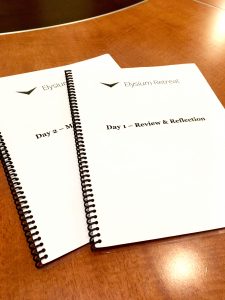 When was the last time you protected a large amount of time in order to evaluate and really plan/organize your life? If you're like the large majority of society, your answer is probably "never"! We humans are so good at filling time and bouncing from one task to the next. We so often forget to turn off our auto-pilot and come up for air to reassess, evaluate, and plan. You'll notice the highest achieving companies and individuals in the world would never operate like this, so why would you?
It's time to disconnect from the external world and look internally. Something most North American's don't take enough time to do and something most of us have never been taught to do. Think about all the education you've received in your lifetime. How much of it was focused on the external world and how much of it was focused on looking internally? Exploring who you really are?
The Elysium Retreat Experience is a two-day and two-night getaway! Most of our guests arrive on Friday after 4 pm (check-in) and leave Sunday before 4 pm (check-out) but we accommodate mid-week retreats as well. While completing Elysium Retreat you will be asked to step outside your comfort zone in order to allow yourself space for some deep reflection and realizations. We highly encourage you to leave all phones, technology, and external distractions outside of this experience. Also, this retreat was created with the intent of being a solo retreat. If you're tempted to bring a partner or friend, think of all the times you've had a weekend or experience like that before. This is a time to be completely selfish and focus on YOU!
Over the course of this retreat, you will be working through two different booklets. The Day 1 booklet is focused on looking internally, learning about yourself, and reviewing your last 12 months. The Day 2 booklet still focuses on looking inwards, but also directs your attention to the next year, 5 years and beyond. The 14 exercises you will complete throughout these two booklets will help you stop working in your life, and guide you to start working on your life.
Our retreat space is made up of two beautiful seaside cabins, nestled 40 minutes outside of Victoria BC. Our address is 1290 Gillespie Road, Sooke BC. 
[youtube v="xyCAjtsc2Zc"]
The Full Elysium Retreat Package (Cabin Stay + Booklets)
The Elysium Retreat Day 1 & 2 Booklets
Your Elysium Retreat Day 1 & 2 Booklets consist of 13 extremely valuable and impactful personal development exercises, that will challenge, excite, and inspire you.
Your Own Seaside Cabins
These two cabins nestled in the forest that overlook the Sooke basin are an oasis of peace and west coast tranquility.
A Queen Bed with a View
Wake up each morning looking out over the sea and go to bed each evening watching the sun set behind the Sooke basin and mountains!
Indoor Wood Burning Fireplace
Prepare to get cozy, because these cabins come fully stocked with all the wood you'll need to keep the wood burning fireplace roaring throughout your retreat.
The Reading Loft
Take some time to dive into a good book up in the plush and cozy upstairs reading nook.
Your Own Private Rock Beach & Water Access
Wake up each morning with a dip in the ocean or just walk down to the water with a nice mug of tea and think about life.
Private Driveway & Parking
Park your vehicle in our secure parking retreat spaces and leave it and the stresses of life behind.
Enjoy the Beauty of East Sooke
Whether it's yoga on the cabin's wrap around deck, a run along The Galloping Goose Trail, a swim in the ocean, or a walk/hike in East Sooke Park, you'll have plenty of opportunities to stay active during your stay



$390
The Full Elysium Retreat Package (Cabin Stay + Booklets)
The Day 1 & 2 Elysium Retreat personal development booklets
2 days and 2 nights of introspection, life planning, and relaxation
Full use of two newly renovated waterside cabins
A west coast experience, you'll never forget
Go to our booking page