Everything you need to conduct your own personal solo retreat

What Does the Elysium Retreat Package include?
– The Pre-Retreat Guide: Our Pre-retreat guide walks you through how you can get the very most out of your retreat and will outline some common pitfalls clients tend to make.
– The Elysium Retreat Workbook: A beautifully designed 108-page hardcover workbook that will be shipped right to your chosen destination.
– A $15 impact donation to CAMFED Canada: This donation buys all the school supplies for one marginalized girl in Sub-Saharan Africa for a whole school year.
– The Post Elysium Retreat Video OR a 45-minute virtual retreat review session with our Founder, Derek Juno. Our Post Elysium Retreat video helps you fully wrap up your retreat experience and create a system to guarantee you'll get the very most out of the work you did during your retreat and throughout the next year.
For those of you who would prefer to have a more personalized experience, we suggest you purchase the package that includes a one-on-one review session with our Founder, Derek Juno, which will help you summarize your intentions after your retreat. Ask any questions or clarify any thoughts you might have with Derek. Together you'll create a system that will help you revisit and focus on all the goals and intentions that you created during your retreat.
This is a very rare experience
Think about all the education you've received in your lifetime. How much of it was focused on the external world and how much of it was focused on looking internally? Exploring who you really are and what you really want out of life. Your Elysium Retreat will help facilitate this kind of education.
We so often forget to turn off our auto-pilot and come up for air to pause, reflect, and plan. You'll notice the highest achieving companies and individuals in the world would never operate like this, so why would you?
What kind of retreat is this?
While completing your Elysium Retreat we highly encourage you to leave all phones, technology, and social media outside of this experience. Also, this retreat was created with the intent of being a solo retreat. If you're tempted to bring a partner or friend, think of all the times you've had a weekend or experience like that before. This is a time to be completely selfish and focus on YOU!
If you have more questions, check out our FAQ page.
Order your Elysium Retreat Package + Find your retreat location = Magic
Impact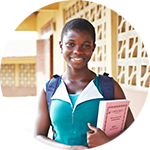 Not only does Elysium Retreat aim to improve the lives of the individuals fortunate enough to embark on this retreat, but also those less fortunate. For every Elysium Retreat workbook sold, $15 is donated to CAMFED Canada for a very specific purpose. Your $15 donation buys the school supplies for one marginalized girl in Sub-Saharan Africa for a whole school year. Because school is paid for by the government (in most regions), school supplies are one of the main barriers to education. Not only are you improving your own education on this retreat, but you are also helping to enable the education of a young girl and supporting her future. Thank you! Learn more about our impact here.